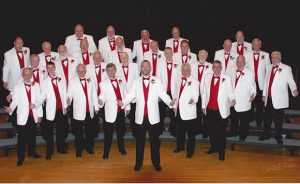 Sh-Boom! Sh-Boom!
Barbershop Goes Rock n' Roll when the Southern Gentlemen Barbershop Chorus rolls out their 25th annual show at Grover C. Fields Performing Arts Center on Saturday, April 28th at 7:30 p.m.
The Southern Gentlemen Barbershop Chorus … recognized for its "Singing Valentines" as well as its charitable support of many local civic groups, high school choral programs, churches and community wide events … will bring back the music of the fifties and much more.
The title song is "Sh-Boom…Sh-Boom" with the songs that follow all happily reflecting on the Fifties and the toe tapping era of Rock n' Roll and Rhythm and Blues.
The guest quartet, Up All Night, features four young women hailing from Fairfax, VA., who despite their short three-year collaboration, were Regional Gold Medal Champions in recent Sweet Adeline competition. Their exuberance is only outdone by their talent.
Tickets are available from Fuller Music, Bank of the Arts, Mitchell's Hardware and The Flagman at the Farmer's Market as well as from members of the Chorus.  Advance price … $16.  Door price … $18.  (tax included).  For credit card orders, call 252-288-9132.
Submitted by: Bill Rust, Southern Gentlemen Barbershop Chorus