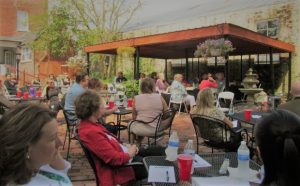 Rescheduled for March 20th
We hope to see you at this year's Social Media Summit on Tuesday, March 20th from 11 a.m. – 4 p.m. in the Isaac Taylor Garden located at 228 Craven St. Registration deadline is March 16th. Inclement weather location is the VFW Post 2514 located at 3850 Butler Rd. (off Old Cherry Point Rd.).
The Summit is an event created to bring individuals, businesses, and non-profits together in a day of learning, networking, and lunch in the Isaac Taylor Garden.
Our goal is to help you learn how to reach your audience and ultimately increase your revenue. This isn't a technical workshop, but we will introduce you to local companies who can help you with technical issues.
We will be talking about copyright laws, websites, blogging, videos, podcasts, content marketing, analytics, branding, relationship strategies, reviews, social media platforms (i.e. Facebook, Twitter, Instagram, Snapchat, LinkedIn, etc.), and much more!
We will also let you know how you can spread your message via traditional media (WCTI 12 and the New Bern Sun Journal) along with citizen media (City Talk, New Bern and Beyond Podcast, and The Charles Tendell Show)
Here's the line-up of Speakers:
– Erica B. E. Rogers, Intellectual Property Attorney with Ward and Smith, P.A.
– Jeremy LeRay, owner, New Bern Web Design
– Wendy Card, owner, New Bern Now
– Darlene Brown, Executive Director, Craven Partners In Education
– Susan Braaten, Technology Coordinator and Trainer, Keller Williams Realty 3pm
– Bill Wheeler, owner, Nautical Wheelers
– Dan Spangler, owner, A Dog's Dream
– Bob Mackowski, owner, Open Aperture Photography
– Laurie Hart, owner, Think Hart Solutions
– Mickie Miller, Executive Director, New Bern Historical Society
– Clayton Cheek, Oliver & Cheek, PLLC.
– Jaime McCutcheon, Assistant News Director, WCTI News Channel 12
– David Prizer, Digital Sales Director, New Bern Sun Journal
– Colleen Roberts, Public Information Officer, City of New Bern
– Randy Foster, The New Bern Post
– Charles Tendell, The Charles Tendell Show
– Buddy Bengel, City Talk with Sabrina and Lee
– Jane Maulucci, The Reactive Voice will be leading the event as the Emcee
Special thanks to our Sponsors: Schlotzsky's, Soo's Chocolate and Bakery, Paula's Pizza, Petsense of New Bern, New Bern's News Talk Radio WNOS 107.5FM, Studio Verve, Baker's Kitchen, The Birthplace of Pepsi, and Schlotzsky's, Soo's Chocolate and Bakery, and Wit Clothier.
Join us for a fun day of learning, networking, and walk away with a new marketing toolkit!
Sign up today by filling out this registration form and returning it to us to. There is a $20 fee that includes lunch, beverages, networking opportunities, take away information, and more! Registration deadline is March 16th.
If you prefer to pay via PayPal, click the below button and please email your registration form to us:
For additional details, click here. You can also watch videos from previous Summits on New Bern Now's Youtube Channel.
For more information, please call 252-259-6853 or send me an email.
Wendy Card