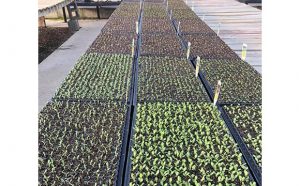 If you are thinking of eating healthy by growing your own vegetables this spring, put March 1st on your calendar. We are busy seeding now as we are planning on having our cool weather varieties available approximately the beginning of the month, depending on the weather of course. We grow the latest varieties and best quality vegetables for our climate and especially the virus-resistant tomato and pepper selections that are so important to a successful vegetable garden.
Get your garden soil ready –  by laying a 3-inch layer of compost over the garden bed. Apply agricultural lime to the beds every two to three years, at the rate of 4 lbs. per 100 square feet for sandy soils, 6 lbs. for loam and 8 lbs. for clay. Till the compost and lime into the top 6 inches of the bed.
Fertilize the vegetable garden one to two weeks before planting. Apply a general purpose, slow-release fertilizer to the bed at the rate recommended on the fertilizer package. We offer a few varieties of quality fertilizers in sizes from 4lbs. to 36 lbs.
Place an additional 1-inch layer of compost on top of the soil just prior to or just after planting. The compost acts as a mulch and also leaches nutrients into the soil throughout the gardening season.  New Bern Farm, Garden and Landscape Services has all the supplies you need to have a successful garden!
The following cool weather vegetables will be ready and waiting for you so get your pitchfork and shovel out!
Broccoli, Beets, Arugula, Leek, Cabbage, Celery, Cauliflower, Brussel Sprouts, Collards, Kale, Lettuce, Onions, Pak Choi, Spinach, and Swiss Chard.
Visit us at New Bern Farm, Garden and Landscape Services for all your lawn care needs. Expert advice is FREE. For more information, call 252-638-1983.
By Contributing Author, Wendy Graveman, New Bern Farm, Garden and Landscape Services