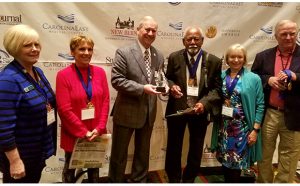 I was honored to be recognized as one the 52 Faces of Community by the New Bern Sun Journal at the Recognition Luncheon held on February 27th at the New Bern Riverfront Convention Center and catered by The Flame Catering and Banquet Center.
Outlined in the event's program, "Craven County's 52 Faces of Community program "honors volunteers and unsung heroes for making extraordinary differences every day". It is "co-sponsored by CarolinaEast Medical Center, the New Bern Area Chamber of Commerce's Nonprofit Council".
During the event, five out of the 52 people received the prestigious Jefferson Award for Public Service: Terry Brubaker, Mary Jean Franks, Renee Steward, Lummie Faulkenberry, and Ben Watford. Heather Love, regional executive with the Jefferson Awards Foundation, presented the award to Ben Watford who was selected to represent Craven County at the National Jefferson Awards in Washington, DC in June.
Congratulations goes out to all the people recognized and the Jefferson Award Recipients!
Tell us what you think sending us an email. Visit New Bern Now's Facebook page or sign up for the latest updates by submitting your email address in the right margin on New Bern Now's website.
Wendy Card