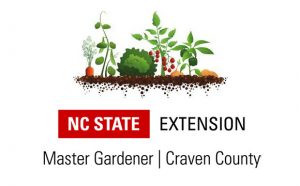 (Listen, Learn and Questions)
Saturday, April 21st
10:30 a.m. to 11:30 a.m.
Prior to our workshop we will conduct our monthly tour of our demonstration gardens from 9:00 a.m. – 10:00 a.m. with Master Gardeners highlighting plants of interest, and in bloom.
Our monthly plant sale runs from 10:00 a.m. – 10:30 a.m., featuring plants grown by our Master Gardeners. The plant sale continues after the workshop concludes.
Sponsored by: Craven County Cooperative Extension and Facilitated by Craven County Extension Master Gardener Volunteers
Presenter: Dr. Tom Glasgow
Location: Craven County Cooperative Extension (Agricultural Building and Demonstration Gardens are located at 300 Industrial Drive just off the Clark's Exit [409] from Route 70 West)
~~Open to Everyone — Great Family Education~~
Questions: call 633-1477
(Monday – Fridays 8:30 a.m. – 4:45 p.m.)
For accommodations for persons with disabilities, contact Tom Glasgow at 633-1477 no later than five business days before the event.
Submitted by: Joanne Celinski