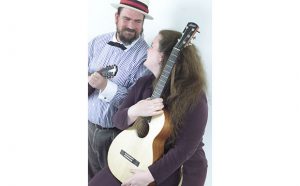 Friday, March 9 at Trent River Coffee Company
Tuppence, a folk music duo comprised of Sara and Simon Spalding, will present a program of Irish Music at Trent River Coffee Company in New Bern, on Friday, March 9.  Sara and Simon sing and play fiddle, guitar, mandolin, "octar", and more.  The program will feature songs of love, danger, and misadventure from over three centuries, including traditional and contemporary ballads, sea songs, jigs, reels, hornpipes, and much more. It's a great way to set the mood for St. Patrick's Day!
Trent River Coffee Company is at 208 Craven Street in New Bern. The doors open at 6:00, and the music begins at 7:00 pm. Tickets are $10, available at the door.  Call 252-514-2030 for more information. The duo's CDs will be available for purchase at the performance. Find out more about the band at TuppenceFolk.com.
Tuppence's Irish program is a fun way to celebrate the season – don't miss this toe-tapping concert!
"Tuppence has charmed concert and festival audiences in Scotland, Texas, and California with their unusual blend of European and American musical styles…" – Historic New Bern Herald
Submitted by: Simon Spalding