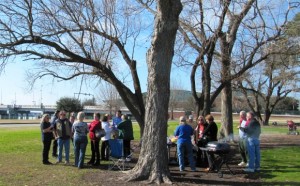 Although I've heard friends say Facebook's new changes are going to negatively impact their brands (business, non-profit, fan pages, etc.) and they're going to have to advertise to be seen by their followers. This is not true.
Late last year, Mark Zuckerberg wrote, "We built Facebook to help people stay connected and bring us closer together with the people that matter to us. That's why we've always put friends and family at the core of the experience. Research shows that strengthening our relationships improves our well-being and happiness."
Before I continue, I want you to know that I don't have a degree in marketing, but I've done a lot of research and have been analyzing New Bern Now's Facebook page to see what's working and what's not. I admit that it's a work in progress, but it takes time to learn and implement strategies.
Please know that all the changes haven't been implemented, but here are some key points that I hope will help you connect with your audience and stay in their newsfeeds:
– Create a post that actively interacts with someone and inspires a conversation by making people want to engage by liking, commenting, or sharing.
– If you are constantly promoting your brand vs. delivering interesting content, your brand will come across as a spammer and you will be penalized by Facebook.
– The higher your engagement power is (liking, commenting, and sharing), the higher your ranking will become in newsfeeds.
– If you're not posting at least once a day, with good quality content, you will be penalized. It's engaging with good quality, not quantity. If you're posting numerous times a day, it may come across as spam. The emphasis is on consistent quality posts, not quantity.
– Experts talk about the importance of Facebook live videos. If you don't do a live video, uploaded ones are also factored into the algorithm, but if your video doesn't engage people, it may have a negative impact. Don't do a video because you feel that you have to.
– Lastly, to truly understand your audience, you must download your page's insights from Facebook! You can do this by going to your Page Manager and in the upper right corner click Export Data.
The above information is a very basic summary and only covers organic content. I didn't mention Facebook Ads because over the years, I've only boosted posts probably 10 times and that was before the new algorithm was launched.
To be honest with you, I'm glad that Facebook is changing things up. It only encourages us to think of what our audience wants as it's not about us…it's about them. It also pushes us not to become complacent. There's a lot of brands that are selling things, but they aren't engaging with their followers. It's called social media for a reason…to be social. Now there's times when I only have 10 – 20 minutes a day to look at New Bern Now's Pages Manager and engage or look at other pages that I follow and engage, but at least I'm trying.
I hope this helps to dispel at least a few rumors. You can learn more by attending New Bern Now's Social Media Summit on March 6th and meeting your audience in person! Register here.
Tell us what you think sending us an email. Visit New Bern Now's Facebook page or sign up for the latest updates by submitting your email address in the right margin on New Bern Now's website.
Wendy Card