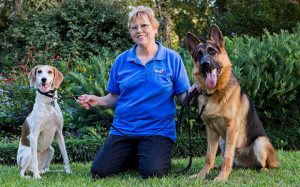 Jeanne Crockett, owner of Crockett's Critter Care is the first Fear Free Certified Professional Pet Sitter in North Carolina. Ms. Crockett completed 9 hours of veterinary education with stringent testing and annual continued education requirements, to become a Fear Free certified professional. This certification means she not only cares for your pets' physical health, but their emotional well-being, as well.
Pets become stressed, fearful, and anxious at times and you want to have a professional who understands how to manage, calm, and console your distraught pet. Ms. Crockett and her team are skilled in using proven techniques to soothe and lovingly care for your pet. They take the time to see situations from the pet's point of view to make each visit with your pet a pleasant and enjoyable experience.
For clients with senior pets or pets with special needs, Crockett's Critter Care professionals are also trained in pet first aid and CPR. Jeanne Crockett's team is bonded and insured which means you are hiring a well prepared professional to care for your beloved pet whether furry, feathered, or finned. For pet sitting and dog walking go to crockettscrittercare.com, contact Jeanne by email, or call her at 252-635-2655.
Submitted by: Jane Maulucci, The Reactive Voice