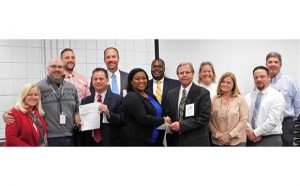 Partners In Education (PIE) is pleased to partner with Wells Fargo and Chevrolet of New Bern to offer two technology grants to our Craven County Schools principals with the goal of equipping our students with the 21st Century skills necessary for post-secondary education and/or workforce readiness.
The awarding for the 2017-18 Tech Grants went to: Wells Fargo Tech Grant – To Osmo and Beyond!
Daniel Palimetakis, Principal at Vanceboro Farm Life Elementary – $2,811.15 and the Chevrolet of New Bern Tech Grant – Diving into Digital Literacy – Dr. Eleanor Patrick, Principal at Oaks Road Elementary – $2,500.
For more information on how you can contribute to the PIE Program, contact Darlene Brown at 514-6321.
Submitted by: Darlene Brown, Craven County Partners in Education