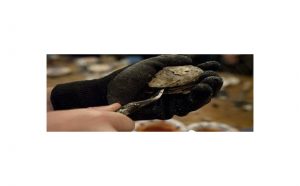 Are you looking for a way to have some fun and help your community? Then let's get cracking!
The Pamlico Community College Foundation will host its 8th Annual Great Oyster Revival & Chili Cookoff on Saturday, Feb. 24, from 3 to 5 p.m. at the PCC campus in Grantsboro.
For $30, you can enjoy all-you-can-eat oysters and sample some delicious chili prepared by area cooks. Most importantly, you'll be helping the PCC Foundation support deserving college students right here in the community.
"The Great Oyster Revival & Chili Cookoff is a fantastic way to shrug off the winter blues and enjoy an afternoon outside the house," said Michelle Noevere, development director for the PCC Foundation. "We're looking forward to a fun time eating delicious food with great friends – all for a good cause."
This year's event will feature exciting musical guests, saxophonist Jim Durham and guitarist/singer/songwriter Hank Barbee, of the acclaimed Eastern NC band The Dust Parade. They have taken their show on the road and have cut a couple of albums. Their unique style of Blues/surf/jazz-improv performed over catchy songwriting will entertain and enthrall you.
"This is world-class talent, well worth the $30 ticket price alone," Noevere said with a smile. "The oysters and chili are just a bonus!"
Local cooks are invited to enter a crockpot of their best chili for a chance at a trophy and prize. Chef Justise Robbins of Kinston's The Chef and the Farmer and Gary Hardison of Gary's Downeast Restaurant will be judging the entries. Enter your chili by contacting Noevere at the number below no later than Wednesday, Feb. 21 for a chance to a customized wood and bamboo plaque worthy of displaying on your wall and a $25 Food Lion gift certificate or $10 Piggly Wiggly gift certificate!
Additionally, there will be door prizes, a 50-50 raffle and a silent auction.
Now's the time to get your tickets for this one-of-a-kind winter event before they sell out.
Tickets are on sale at PCC's bookstore, Nautical Wheelers in Oriental and New Bern, and Bayboro Pharmacy. A limited number of tickets will be available at the door. Be sure to bring your own gloves and knife – and come hungry!
For more information, contact the Foundation at 252-249-1851, ext. 3084 or send an email to Michelle Noevere. Sponsorship opportunities are also available. Sponsors' names will be on signage at the event and the college's electronic signing fronting Highway 306, by which 3600 vehicles pass per day, according to latest NCDOT figures!
Submitted by: Michelle Noevere, Executive Assistant to the President and Board of Trustees, Foundation Development Officer, Pamlico Community College