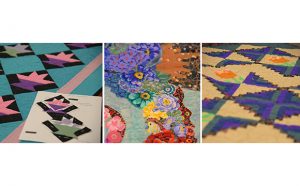 New Exhibit opens Jan. 20 in North Carolina History Center
Tryon Palace Palace will showcase various quilting techniques in a new exhibit "Pieced with Care." "Pieced with Care" will open on Saturday, Jan. 20 and will be on display until March 25, 2018. The exhibit will be held in the Duffy Exhibition Gallery located inside the North Carolina History Center.
This exhibit displays over 60 beautifully unique and never-before-seen quilts. "Pieced with Care" features quilts from the Twin Rivers Quilters Guild and presents various types of quilting techniques, ranging from long-arm to hand-quilted, and appliqué. Quilts will vary in size, color, pattern and material.
Admission to the exhibit is free. Flash photography is prohibited. The Duffy Exhibition Gallery is open 9 a.m. to 5 p.m. Monday through Saturday, and noon to 5 p.m. on Sunday.
For more information call 252-639-3500 or visit TryonPalace.org.
Upcoming events at Tryon Palace include:
January 20: Lumbee Tribe Cultural Performance by Ryan Dial-Stanley
January 23: Behind the Scenes: Costume Shop
January 26: WinterFeast: Oysters, Brews, and Comfort Foods
January 30: Behind the Scenes: Conservation Lab
Submitted by: Chelsea Payne, Marketing Specialist, Tryon Palace