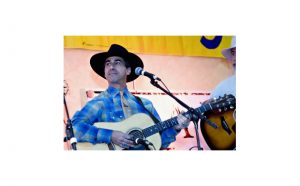 Friday, February 16, Trent River Coffee Company
Saturday, February 17, Joslyn Hall
Kerry Grombacher is a modern-day troubadour whose songs are rooted in the Western landscape. He's played on stages as varied as the Newport Folk Festival, the Arizona Cowboy Poets Gathering, the New Orleans Jazz Fest and the parking lot of the Sands Motel in Grants NM–where there's a room named for him. His recordings are It Sings in the Hi-Line, Sands Motel, and Riding for the Brand. Belinda Gail, Gary Prescott, The Texas Trailhands, Earl Gleason, Duke Davis, Ed Stabler, Lorrie Keating, and Trails & Rails have covered his songs, and his "Close 'em on Up" appears on the Putumayo compilation, Cowboy Playground.
"Kerry Grombacher is the best kind of songwriter, with lyrics that take us on journeys to places we've never visited before, and melodies so pure and true that they seem to rise up from the plains…" (Nalini Jones – Newport Folk Festival)
For more information, call 252-646-4657 or visit Down East Folk Arts Society's website.
Submitted by: Evelyn Richards, Down East Folk Arts Festival