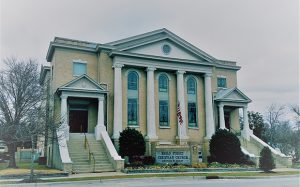 January 20, 2018
We the People New Bern will hold a 'gathering' at 1 pm in the Broad Street Christian Church located at 802 Broad Street to support ratification of the ERA and the ideals of liberty and justice for all.
The event is being sponsored by the Craven County NAACP.
The gathering will feature a talk by Marena Groll, director of NC-ERA Alliance, about the current work in NC to support equal constitutional rights for women.
We the People marks the one-year anniversary of the Sisters March, which gave voice to women and men speaking up for equal rights. We the People lift up hope and support connections with our neighbors and fellow citizens to reclaim our commitment to the American ideal of equal justice for all.
Submitted by: Pat Chylko