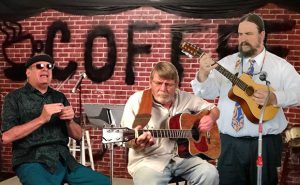 The Wilmington Blues artists Arthur "LoveWhip" Shuey and Dave Thompson will team up with local musician Simon Spalding at Trent River Coffee Company in New Bern, on Saturday, January 13.
"LoveWhip" is the founder of the Blues Society of the Lower Cape Fear and Beat Magazine, will sing and play mouth harp. Arthur has taught workshops, seminars, arts camps, and has been featured in television documentaries and in eight films. He has performed with Bo Diddley, Chuck Berry, Big Boy Henry, and many more. He brings the best in authentic Louisiana music to southeastern North Carolina with "Chantez les bas".
"Dangerous Dave" Thompson is recognized as a top southeastern North Carolina guitar player and entertainer. Whether fretting or playing with a slide, he is one of the most in-demand guitar-players and singers in the Cape Fear Region.
Simon Spalding plays fiddle, mandolin, bass, and other instruments. Simon is known to New Bern music-lovers for both his solo work and his playing with Casablanca, The Bears, and Rock Bottom Deal.
Arthur, Dave, and Simon met at the Blues Jams at Wilmington's Ice House in the 80's and 90's. They will conjure up all the excitement of those legendary sessions when they reunite in New Bern.
This Terrific Trio will perform at Trent River Coffee Company, 208 Craven St., New Bern, on Saturday January 13. Tickets are $10, available at the door. The doors open at 6:00 p.m., and the show starts at 7:00 p.m. For reservations or more information, call 252-514-2030.  For more on Arthur Shuey, check him out at Reverbnation.com/ArthurShuey.
Submitted by: Simon Spalding