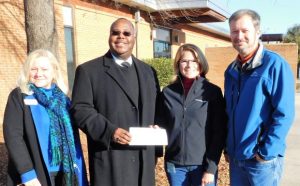 Ervin Patrick, Partners In Education president, announced that International Paper has awarded PIE $9,853.00 to provide funding for a weight room at West Craven High.
The objective for the weight room equipment is to transform the overall health and wellness of students and athletes as they learn an exercise program they can perform now, and later in life. By funding of this grant, International Paper demonstrates to our West Craven High Eagles that the best prescription for good health is daily exercise, setting them up for a lifetime of healthy habits.
If you would like to learn how your organization can make a difference through Craven County Schools' local education foundation, PIE, contact Darlene Brown, executive director, at 514-6321 or visit PIE's website at CravenPartners.com.
Submitted by: Darlene Brown, Craven County Partners In Education