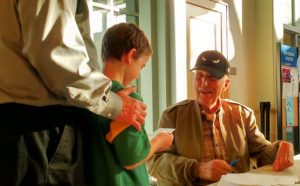 Renowned Historian Reflects on His Own Injuries in WWII And Changes in Treatment
For those soldiers wounded in battle in the Civil War, often the outcome was grim.  For those wounded in World War II, the outcome was far different. Civil War historian Ed Bearss will return to New Bern, at Cullman Performance Hall at the North Carolina History Center at 2pm on Sunday, January 7 to talk about that difference.  He'll reflect on his own experiences as a Marine in World War II and his long-term medical recovery and what may have resulted during the Civil War.
This is the twelfth in a series of annual visits for Bearss, one of the leading historians and experts on the Civil War. Considered "An American Treasure" by the Smithsonian Institution, his books are definitive works on the period.  Reservations are recommended and can be made with a donation of $10, with all proceeds going to support the New Bern Battlefield Park.  There will be a reception in Mattocks Hall following the presentation.
Ed Bearss is a United States Marine Corps veteran of World War II, a military historian, an author known for his work on the American Civil War and World War II eras, and a popular tour guide of historic battlefields. He served as Chief Historian of the National Park Service from 1981 to 1994 and is now Chief Historian Emeritus.
He continues to share his vast knowledge. Civil War students clamor to hear him speak.  At 90+, Bearss still leads numerous tours around the United States, the Pacific, and Europe.  Don't miss the opportunity to hear this amazing man.
To reserve a seat or for additional information, please call the New Bern Historical Society at 252-638-8558. This lecture is presented by the New Bern Civil War Round Table and the New Bern Historical Society in partnership with Tryon Palace.
The mission of the New Bern Historical Society is to celebrate and promote New Bern and its heritage through events and education. Offices are located in the historic Attmore-Oliver House at 511 Broad Street in New Bern. For more information, call 252-638-8558 or go NewBernHistorical.org or Facebook.com/NewBernHistoricalSociety.
Submitted by: Kathy Morrison, New Bern Historical Society