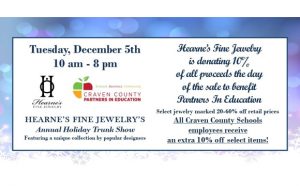 Hearne's Fine Jewelry, 1331 McCarthy Blvd., announced they are hosting their Annual Holiday Trunk Show with 10% of all sales benefiting Partners In Education (PIE) on Tuesday, December 5, 2017 from 10:00 am – 8:00 pm with select jewelry marked 20-60% off retail prices.  PIE is the local education for Craven County Schools committed to enhancing the educational experience of teachers and students through classroom grants and partnering with businesses, community leaders, and educators for financial support.
Ervin Patrick, PIE president explains, "The PIE board is pleased that the Hearne's team has chosen to dedicate 10% of all sales on the day of their Annual Holiday Trunk Show to PIE.  Hearne's, located at 1331 McCarthy Blvd., is the leading fine jewelry store in New Bern, and by dedicating a portion of their sales on December 5, they continue to demonstrate their dedication to our public schools."
Mike Hearne, with Hearne's Fine Jewelry says, "For this very special event, we will be featuring a unique collection by our most popular designers, including handcrafted pieces, from Brad Garman Designs, Gamma Creations, Alisa, and Kimberly Diamonds."  Kim Hearne added, "We want to make your holiday season sparkle with gifts that are striking and affordable, and we are also pleased to announce that all Craven County Schools employees will receive an extra 10% off select items with their district identification."
Brandy Popp, Chair of the PIE Fund Raising Committee explains, "Jewelry lovers, and those seeking the perfect Christmas gift (or make a wish list!) will want to mark their calendar for Tuesday, December 5!  The designers featured have exquisite jewelry and the trunk show is a "can't miss" event featuring breathtaking collections while supporting a charitable cause that is near and dear to our hearts."
On June 3, 1972, Mickey and Laura Hearne opened Hearne's Jewelers in New Bern, NC. They watched their business flourish and it continues to thrive under the guidance of Mickey and Laura's sons, Mike and Jimmy.  Hearne's Fine Jewelry is still practicing the belief on which it was founded… a store that combines courtesy and integrity.  Hearne's Fine Jewelry and the Hearne family are still creating memories for life!
For more information about programs offered by PIE, contact Darlene Brown, Executive Director, Craven County Partners In Education, at 252-514-6321 or CravenPartners.com.  Hearne's Fine Jewelry is located at 1331 McCarthy Blvd., and can be reached at 252-637-2784.  Visit their website at www.hearnesjewelry.com.
Partners In Education is a 501(c)3 nonprofit Local Education Foundation that provides grant funding and special programs to classrooms and schools within the Craven County Schools system.
Since 1989, PIE has been changing the lives of students and families in our community by providing our educators with financial resources that enhance and reward innovative approaches to educational excellence.
Submitted by: Darlene Brown, Craven County Partners In Education