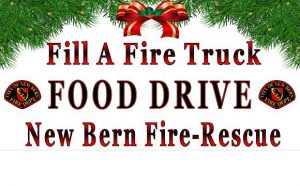 New Bern Fire-Rescue is launching its first-ever "Fill a Fire Truck" food drive which kicked off on Black Friday, November 24th.  The goal of the food drive is to help City of New Bern employees and local families who are in need of food this holiday season.  The food drive lasts through December 19th.
Residents and visitors to New Bern are encouraged to stop by New Bern Fire-Rescue Headquarters, located at 1401 Neuse Boulevard, and drop off non-perishable food items to help fill the fire truck.  An engine will be parked in front of the station with a large "Fill a Fire Truck" banner on the side, so donors and passersby can't miss it.  New Bern Fire-Rescue is also accepting monetary donations.  Those donations will be used to purchase perishable foods such as turkeys from local grocers to supplement the donated items.  All food will be collected and boxed and presented to employees in need on December 20th. The remainder will be taken to Religious Community Services for distribution to residents.
"While you're out doing your holiday shopping Friday, stop by and drop a few items into the fire truck," said Fire Chief Bobby Boyd. "Everything stays local so that all of our employees and neighbors in need can celebrate the holidays with their families near and with a nice warm meal."
While the food drive lasts through mid-December, the department is hosting a special event on December 9th from 10 a.m. until 3 p.m. designed to invite the public to visit the fire station headquarters, have fun, and give what they can to support the food drive.  The event will feature music, popcorn and a visit from Santa.  "We want this food drive to be successful…so successful that it becomes an annual event," said Chief Boyd. "We already have firefighter shifts challenging other shifts to collect the most food and donations. This will be a holiday blessing for so many families, both in-house and in the community."
Non-perishable and monetary donations will also be accepted at our fire stations located at 800 West Thurman Road and 3101 Elizabeth Avenue.
Submitted by: Colleen Roberts, Public Information Officer, City of New Bern