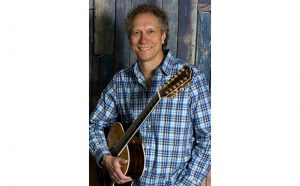 Friday, January 12, Trent River Coffee Company
Saturday, January 13, Joslyn Hall
Performing in over 100 cities each year, Folk/Americana musician and entertainer, Dennis Warner has established a well-deserved reputation for captivating audiences with his smooth vocals, distinguished songs, enthusiastic personality and stellar playing on both six and twelve string guitars.
For his song writing talents, Dennis was honored with an invitation to perform in concert at the Kennedy Center for the Performing Arts in Washington DC.
Besides being a gifted musician Dennis Warner is also an outstanding entertainer, cleverly blending ballads, up tempo songs, audience participation and humor into a memorable event. He is noted for his warm stage presence and ability to connect with the audience.
For more information, call 252-646-4657 or visit Down East Folk Arts Society's website.
Submitted by: Evelyn Richards, Down East Folk Arts Festival