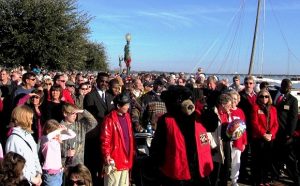 Are you looking for ways to connect with your target audience?
By working with us, we can help you promote your business or non-profit in a way that's unmatched by others when it comes to a combination of positive information via our website, podcast, and magazine focusing on New Bern and surrounding areas.
Since 2009, we've cultivated a loyal audience of people looking for information about New Bern and we offer numerous ways for your business or nonprofit to connect with them.
NewBernNow.com is a "One Stop, Information Shop" where we publish articles, photos, videos, and share them in our daily email and on our social media platforms, reaching over 40,000+ viewers per month. With over 4,000 articles and pages; it's a search engine for New Bern and surrounding areas. When we feature your business or nonprofit, it improves your local search positioning on the Internet. It is the leading voice for positive information about New Bern's arts, businesses, culture, dining, events, health, history, nonprofits, outdoor life, recreation, schools, shopping, and much more!
Beyond our website, we created the Ledger Magazine to provide valuable content to our readers, reaching over 23,700 quarterly in readership. That's why we decided a long time ago to defy traditional advertising guidelines, which are 70% ads – 30% content and provide 30% ads and 70% content. If you advertise with us, your ad will stand out compared to other magazines that readers have to flip thru pages of ads trying to get to the content! Our goal is to promote our town by providing as much information to our community as possible and creating unique advertising opportunities. With the support of our advertisers, we get by as the advertising dollars cover the cost of printing the Ledger and fees associated with the website.
We also produce something more – New Bern and Beyond's Podcast Show with community segments being aired on New Bern's News Talk Radio, WNOS 107.5FM and 1450AM. Our Podsquad talks about all of the great things New Bern has to offer among other interesting topics. This reaches approximately 3,568 monthly listeners.
We're a locally owned and operated company, that has built a loyal audience of local residents and visitors who are looking for information!  We connect readers, online followers, and listeners to what our great city has to offer.
By advertising with New Bern Now, you're associated with a trusted and positive community brand. We can help you get your message to your audience!
The deadline for advertising in the Ledger Magazine is December 15th. Space is limited so please let us know if you're interested in partnering with us to promote your efforts by calling 252-259-6853 or sending us an email.
Thank you,
Wendy Card