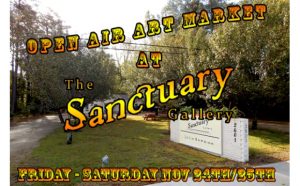 The Sanctuary Gallery is pleased to announce an open air art market that will be held on Friday, November 24th and on Saturday, November 25th from 9am – 5pm both days.
The market will feature local artists selling and demonstrating their work. Featured artists will have original paintings, prints, jewelry, tie dyed clothing and more.
The gallery itself is featuring the Small for Fall show, which focuses on smaller works of art that fit any wall and any budget, as well as sculpture and jewelry.
Local New Bern artists in both the art market and the gallery include Sam Rae Duke, Elisa Maple, Chris Wagner, Jane Ellen Horner and Nan Gilbert.
The gallery is located at 2601 Trent Road in New Bern. Call 252-571-8562 for more information.
Submitted by: Chris Wager, Sanctuary Gallery