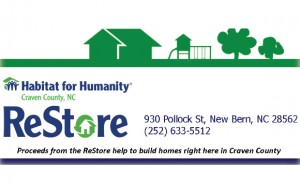 Habitat for Humanity of Craven County is hosting a Block Party on Saturday, November 18th from 12:00 noon to 3:00 pm and invites the community to come by and join in on the fun.
"We've been making some renovations at the ReStore over the last few months so we're holding a Grand Re-Opening to celebrate what has been done," explained Evelyn Richards, the ReStore Manager. "The changes already made to both the exterior and interior of our retail store have created a more attractive, welcoming and comfortable environment for our customers. While there are additional improvements planned for Phase II of the project, we think we deserve to have a party now for what has been completed," said Richards.
The outdoor festivities will include a variety of games, music, face painting, hot dogs, a performance by the New Bern Grupo Folklorico dancers as well as special sale pricing on ReStore merchandise.
Renovations on the Habitat for Humanity building and ReStore have been possible with grant awards from the Cannon Foundation, Bate Foundation, Weyerhaeuser Community Investment Fund, Wells Fargo, NC Community Foundation and New Bern Rotary.
The offices of Habitat for Humanity of Craven County and the ReStore are located at 930 Pollock Street in New Bern. Anyone interested in volunteering with Habitat for Humanity of Craven County is encouraged to call 252-633-9599 for further information.
Submitted by: Deedra Durocher, Habitat for Humanity of Craven County