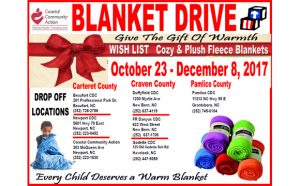 Coastal Community Action is holding a Blanket Drive.
We are putting forth great effort to receive approximately 750 new, soft, fleece throw blankets for our children enrolled in Head Start and Early Head Start in Craven, Carteret, Jones, and Pamlico County.
As the weather becomes cooler, some of our children are not able to bring blankets from home to cover themselves during rest/nap time.
About 96% of the children enrolled in our program come from low-to-moderately low-income households, so purchasing a $6 throw blanket could be a question of affordability for parents.
Our goal is to receive a new throw blanket for all 750-plus children enrolled in our HS/EHS program. We could really use the support of the community.
Submitted by: Sandi Ruger, PFCE Specialist, Coastal Community Action, Inc.