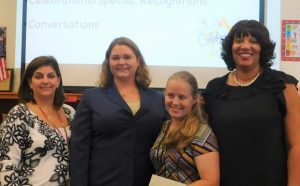 Edward Jones Financial Advisor Joanna Carr, partnered with Partners In Education to award a $100 gift card to Taylor Babson, music teacher at J.T. Barber Elementary. Her principal, Erica Phillips, says, "Taylor is a first year music teacher.  She comes to school with a bubbly, bright personality each day.  She is willing to jump in and support the school in whatever capacity.  She has done a great job on classroom management and getting her students interested in music and musical instruments."
The Edward Jones Teacher Recognition Award demonstrates the company's commitment to positively changing the lives of students and families in our community. The $100 gift card will be used to purchase materials for Ms. Babson's classroom.
If you would like to learn how your organization can make a difference to a Craven County Schools teacher in the classroom, please contact Darlene Brown, Partners In Education at 514-6321.
Submitted by: Darlene Browne, Partners In Education