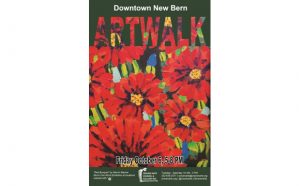 2nd Annual Exhibition features local artists' takes on Chrysanthemum
October 6 – October 23
Craven Arts Council & Gallery is proud to announce their second annual "Mum's the Word" exhibition, featuring painting, drawing, photography, and mixed media pieces depicting the chrysanthemum. This year's exhibit will be shown at seven locations on the downtown New Bern ArtWalk, each displaying original works submitted by local and regional artists. Artwork will be on display during the October Artwalk and Mumfest until October 23rd.
"Mum's the Word" is an exhibition coordinated by the Craven Arts Council in conjunction with Swiss Bear's annual Mumfest in downtown New Bern. Local and regional artists submit their creative depictions of chrysanthemums, with the opportunity to have their work selected to be on next year's Mumfest banner and various other marketing materials. The winning artist also receives $100 for use of their work. Last year's winner was Mums on Craven Street by Belinda Scheber.  This year entries will be displayed at seven different venues on the downtown New Bern Artwalk: Craven Arts Council, the Red Shoe Gallery, Community Artist Will, Ballantyne Framing, The Black Cat Shoppe, Next Chapter Books, and Nautical Wheelers. Locations are denoted on the October ArtWalk card with a mum symbol, encouraging participants to visit each stop to see all of this year's entries. Works will be on sale through the business displaying the pieces. The winning artwork will be announced at the October Artwalk on the 6th.
For more information, visit the Bank of the Arts at 317 Middle. St. or call 252-638-2577.
Submitted by: Jonathan Burger, Marketing and Gallery Director, Craven Arts Council & Gallery, Inc.