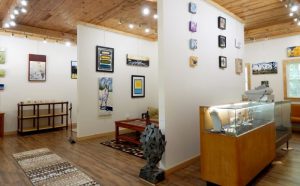 The Sanctuary Gallery will be hosting an open house on Friday, October 27th from 5 until 8pm. New Bern's newest fine arts gallery will be featuring small works from over a dozen regional and national artists.
Local painter and gallery owner Chris Wagner has collected over 100 works of art to display in the renovated church that he purchased with his girlfriend, Julie Rowe. Represented artists include painters, sculptors, potters and jewelers from both in and out of North Carolina. While the show will focus on smaller pieces that will fit any budget and any wall, The Sanctuary also has a nice selection of larger work as well. Artists include Raleigh painters Ryan Fox and Danny Laffey, Mebane artists Jude Lobe and Tekla Frey, Richmond painter Thomas Van Auken, Santa Fe artist Dennis Champlin and Maryland sculptor Sean Stevens.
Local artists are represented with works from Chris Wagner, David Green and Jane Ellen Horner. The display cases have hand crafted metal jewelry from Nan Gilbert and Carolyn Buss. Appetizers and drinks will be served during the opening.
The gallery is located at 2601 Trent Road in New Bern. Call 252-571-8562 for more information.
Submitted by: Chris Wagner, The Sanctuary Gallery