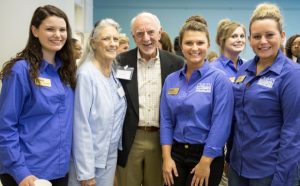 The Craven Community College Foundation received the largest single bequest in school history following a $1 million scholarship endowment established by Dr. David and Mrs. Anna Hurst. This endowment will provide scholarships for students in the school's ambassador program, as well as those pursuing careers in education and nursing.
"The Hursts have developed a sincere, personal relationship with our students and this endowment extends that connection to a permanent legacy," said Dr. Ray Staats, Craven CC president. "Generosity of this magnitude changes lives and will certainly have a tremendous impact on our students for years to come."
Student ambassadors play a vital role in the college's outreach efforts, student engagement, overall retention and serve as the official representatives for on-campus and off-campus community events. The Dr. David M. and Mrs. Anna R. Hurst Scholarship Endowment was established to create opportunities for Craven CC Student Ambassadors in the form of funding the cost of tuition, fees and books, as well as team building and enrichment opportunities.
"The Hursts have taken our ambassador program to the next level," said Emily Stewart, Craven CC campus life coordinator. "They provide our students with opportunities to enhance their team building skills and cultural enrichment activities that our students would not have access to otherwise. The Hursts have helped make our student ambassador program exciting, rewarding, and a program that students want to be involved in."
The Craven CC Board of Trustees learned about the Hurst endowment during a regular board meeting Tuesday Oct. 24 and unanimously voted to rename the ambassador program the Craven Community College Hurst Student Ambassador program. Also attending that meeting was Craven CC Foundation President Lloyd Griffith, who announced the news to the Foundation board during its meeting Wednesday.
"We are very excited that Anna and David have grown to appreciate the impact of this college on significantly changing lives," said Griffith. "And they have been willing to provide such an extraordinary level of commitment to ensure the college's mission continues."
In addition to the funds given annually to the Hurst Student Ambassador program, the Hurst endowment will provide funding for 50-percent scholarships for qualifying students pursuing degrees in educational instruction or nursing, as well as the Student Support Fund, which provides financial assistance for students needing funds to cover expenses related to small emergencies.
The Craven Community College Foundation will manage and disburse the Hurst endowment after it is received. Established in 1977, the Foundation is a 501(c)(3) non-profit organization that provides financial support to Craven CC students through scholarships and funding for programs, equipment, new and emerging initiatives, facilities and other priorities on the New Bern and Havelock campuses.
Submitted by: Craig Ramey, Director of Communications, Craven Community College