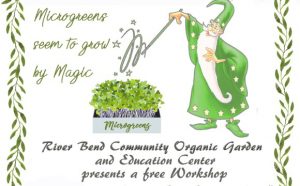 River Bend Community Organic Garden and Education Center announces a free fall workshop, Microgreens – Good to Eat, Easy to Grow, on Tuesday, November 14th at 6:30 pm at River Bend Town Hall.
Microgreens, second only to sprouts, are the quickest food crop urban gardeners can grow! These tasty, nutrient packed "fast food" mini versions of full grown vegetables take little space, require limited gardening skills and are a breeze to grow. And microgreens are ready to harvest in one to two weeks! They will provide your table with visually pleasing and flavor packed nourishment. Presenter Dave Hite will demonstrate simple growing methods and suggest the best selection of varieties to grow. This is a workshop for foodies, gardeners and everyone else.
Following the presentation, refreshments featuring microgreens will be served.
RSVP is necessary. Contact Dee Smith at 634-3192.
Submitted by: Connie Casey