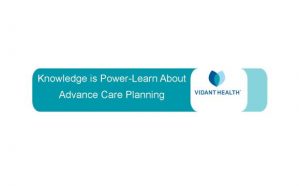 Sessions in Fairfield Harbour and Havelock
No one wants to think about dying, but it's going to happen to all of us one day.
You have the power to make your own decisions about your future health care, including end of life care, now.
The choice is yours. Let's get started together.
Movie & Discussion: Wednesday, October 18, 2017 at 3:30 pm at the Fairfield Harbour Community Center.
Review of the "Frontline" Documentary Being Mortal. This documentary is a follow up to Dr. Atul Gawande's book of the same name. You do NOT have to have read the book prior to attending. We will review the documentary together and discuss the impact to our lives.
Educational Presentation & Discussion: Thursday, October 19, 2017 at 2:00 pm at the Havelock Senior Center
Advance Care Planning – What does it mean and how do you get started. The purpose of this session is not just about completing a form, but to facilitate discussion, answer questions and help individuals to be comfortable with their decisions. Free forms will be distributed.
This discussion will be about understanding Advance Directive including: Health Care Power of Attorney and Living Wills, as well as doctor orders including Do Not Resuscitate (DNR) and Medical Orders for Scope of Treatment (MOST)
Photo ID is required for the completion of documents.
Participation can be for one or both sessions.
Presented by Vidant Health.
For any questions please feel free to email Mary Lou Infinito or call 252-382-3945.
Submitted by: Mary Lou Infinito, Community Outreach Coordinator, Advance Directives