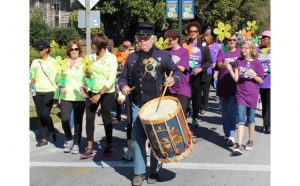 The Alzheimer's Association® is inviting New Bern residents to join the fight to end the disease by participating in the Walk to End Alzheimer's Saturday, October 28, 2017, 10am – 12pm, at The Galley Store and Marina in New Bern.
The Walk to End Alzheimer's participants will complete a 1.8 mile walk around historic downtown starting at 11:30 AM led by professional drummer and educator Glenn Druhot and police escort.  There will be the "Memory garden", booths for sponsors, register to win prizes, team portraits with colorful regalia, snacks and beverages, brief presentations by caregivers, clinical studies enrollment and support services from the Alzheimer's Association. Walk participants will also join in a meaningful tribute ceremony to honor those affected by Alzheimer's disease.
More than 5 million Americans are living with Alzheimer's disease, the sixth-leading cause of death in the U.S. and the only disease among the top 10 causes that cannot be cured or prevented. Additionally, more than 15 million family and friends provide care to people with Alzheimer's and other dementias in the U.S…
Register today. Sign up as a Team Captain; join a team or register to walk as an individual at alz.org/walk. The Walk to End Alzheimer's is the world's largest event to raise awareness and funds for Alzheimer's care, support and research.  Since 1989, the Alzheimer's Association mobilized millions of Americans in the Alzheimer's Association Memory Walk® …and now with the Walk to End Alzheimer's.
Alzheimer's Association®
The Alzheimer's Association is the leading voluntary health organization in Alzheimer's care, support and research. Our mission is to eliminate Alzheimer's disease through the advancement of research; to provide and enhance care and support for all affected; and to reduce the risk of dementia through the promotion of brain health. Our vision is a world without Alzheimer's. Visit alz.org or call 800-272-3900.
Submitted by: Meredith Campbell, Special Events Coordinator