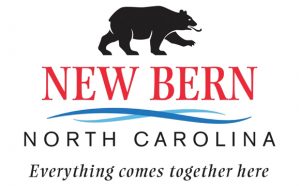 New Bern, North Carolina is one of the newest destinations to become part of the state's Mountains-to-Sea Trail (MST), and the City will celebrate with a special ceremony this weekend.
At 3 p.m. Saturday, September 9th, Mayor Dana Outlaw will welcome two state officials to New Bern who will walk part of the trail starting at Council Bluff Green, located at 402 East Front Street. Carol Tingley, Deputy Director of the North Carolina Division of Parks and Recreation and Smith Raynor, North Carolina State Parks Trails Planner will walk from Council Bluff Green along the Neuse and Trent rivers and end at Palace Point Commons at the intersection of South Front and Eden streets. This section of the Mountains-to-Sea Trail includes New Bern's Riverwalk, which was extended and improved by the City in November 2016. The public is encouraged to participate in the walk.
The City learned in December that 2.12 miles of its Riverwalk had been designated as part of the Mountains-to-Sea Trail. This section starts at Donald M. Miller Memorial Park, located on Avenue A, and extends to Leander Morgan Park located at 925 Walt Bellamy Drive. Shortly after learning of the designation, the City's Parks and Recreation Department applied for and received a $56,000 Recreational Trails Program grant to extend the Riverwalk even further and post official MST signs. The new section will stretch west from Leander Morgan Park along the Trent River, behind New Bern Towers, and then connect with Walt Bellamy Drive. This project supports the City's previously approved Pedestrian Plan, encourages recreation and increases connectivity from downtown. The City has two years to complete the Riverwalk extension and installation of signs. The grant is made possible by federal funds that are administered through the North Carolina Trails Program.
"We are honored to be designated as part of the Mountains-to-Sea Trail and are excited to welcome new guests to New Bern," said Mayor Dana Outlaw."The Board of Aldermen strongly supports improvements to recreation and enhancement of the many amenities that make New Bern an ideal place to live, work, play and raise a family. Our Riverwalk is a popular spot for runners, walkers, fishermen, families, and visitors. I know our community shares in the excitement of watching our Riverwalk grow. This grant will help us advance our goals of improving quality of life for our citizens, fostering healthy lifestyles, and providing excellent neighborhood amenities. We truly appreciate the partnership of the MST and NC Parks."
The Mountains-to-Sea Trail is a footpath that extends nearly 1,400 miles across North Carolina. It begins at Clingmans Dome in the Great Smoky Mountains and stretches east to Jockey's Ridge in the Outer Banks. In between, the trail's topography changes drastically, crossing mountains, swamps, farms, small towns, barrier islands and more.  The MST is a state trail, first proposed in the 1970s and later added to the state parks system in 2000. Approximately 659 miles of the trail are currently designated.
"The Mountains-to-Sea State Trail exemplifies partnerships and commitment.  Stretching from the Tennessee border to the Atlantic Ocean, it is being constructed foot by foot by dedicated volunteers across land that is owned and managed by federal, state and local governments along with private landowners," said Smith Raynor, NC State Parks Trails Planner. "State Parks is proud to provide guidance, planning and coordination to the multiple section sponsors whose individual and diverse sections link together to form the MST."
This weekend's walk coincides with the 40-year anniversary of the Mountains-to-Sea Trail. The Friends of the Mountains-to-Sea Trail has organized an "MST in a Day" event on Saturday, in which more than 1,200 miles of the MST will be hiked, in sections, by various groups. You can find out more about the Mountains-to-Sea Trail at NCParks.gov.
Submitted by: Colleen Roberts, Public Information Officer for the City of New Bern