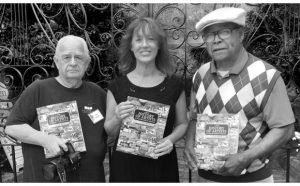 The Greater Good Gallery will hold a book launch event, open to the public in the Isaac Taylor Garden. Creative people and art lovers are welcome to join in the celebration on Wed., Oct. 18, 2017 (rain date Oct. 19) from 4-8pm. There will be a group photo at 6pm.  Visit, GreaterGoodGallery.com for information on purchasing the book, "A Brief History of Artists in Eastern North Carolina: A Survey of Creative People including Artists, Performers, Designers, Photographers, Authors and Organizations."
"A Brief History of Artists in Eastern North Carolina" is a feast for the eyes.  The visual guide includes more than 500 works in full color with a five-page index of creative people and organizations. The main part of the book is a 239-page look at more than 140 contributors which shaped our cultural history in eastern North Carolina, circa 2017.
Authors Ben Watford, Jon Derby and Lisa Bisbee Lentz, all artists and educators, share a common vision that people should be encouraged in creative endeavors. The book can be used in lessons about the culture of eastern North Carolina. Students will come to appreciate struggles and successes of creative people in ENC. This survey is a valuable resource for an art courses, or as a reference to supplement humanities programs.
Take a colorful tour of the creators' works and lives in eastern North Carolina (ENC). The book tells the story of a cultural experience in how diverse artists from different places in ENC treat the same subject matter, such as landscape, portraits, or animals.
The pages showcase art and creative people with a brief description of their contribution towards a vibrant and diverse arts community. The artists explain key influences, processes in their work or information about their future endeavors. Often, the artist quotes his/her intentions to improve your enjoyment in art. Collectors and lovers of art will gain insight into the ENC culture.
The main part of the book is subdivided into a full spectrum of creativity.
It's a brief survey of creative accomplishments by visual artists, painters, sculptors, potters, dancers, performers, carvers, graphic designers, photographers, weavers, crafters, fabric artists, photojournalists, illustrators, architects, drafters, digital artists, muralists, authors, writers, poets, musicians, projects, exhibit venues, events, volunteers, theatres, councils, collectives and organizations.
Contributions by Bernice Abraham, Tessie Ann Adams, John & Brandy Angelo, Art by Benetez, Barbara & Ben Watford, Ashley Barnes, Barry Knauff, Chuck Beckley, Nada Behr, Brenda Bennett, Betsy Drake Interiors, Alice Bilello, Gail & Jim Bisbee, Linda Boccia, Dion Burroughs, Chris Buttitta, Scotty Canady, Se'rah Cheatham, Andrea Clements Thompson, Becky Coleman, CoraMae Zimmerman Pipkin, the Corrs, Judith Cutler, Rich Daniels, Jon Derby, Donna Slade, Angelina Doyle, Samrae Duke, Janet & Michael Francoeur, Pete Frey, Dewey Funkhouser, Brenda Gear, Giorgianni's, Mark & Lynn Golitz, Dee Mayer, Asha Goodwin, Lynne Baron Goodwin, Gary Gowans, Greater Good Gallery, Gregory Keyzer, Joanne Gwaltney Ashton, Charlie Hall, Alice Bilello, Krystal Helton, Lee Hood, Isaac Taylor Garden, Carol Jones, Martin Kampitch, M. Patrick Kavanaugh, Patrick Keough, Gerry King, Molly Knazek, Rebecca Koehler, Kristen Moffitt, Mike Lentz, Arden & Jeth Lindsey, Lisa Bisbee Lentz, Patricia Bisbee, Sam Love, Ed Macomber, Nell Maha, Lela Cahoon McClanahan, McDaniel's, Elaine Meyer, GeeVee Meyer, MJ's Raw Bar, Tony & Rita Morello, Karin Lisa Nelson, New Bern Now, New Bern Sun Journal,  Nexus Poets, Matt O'Brien, the Owens', Stacey Patterson, Maggie Peacock, Gary & Janice Peterson, Red Shoe Gallery, Cindy Ridlon, Ed Ruiz, Ben Selby, Rebecca Shelby, Silk Flowers By Jean, Donna Slade, Marjorie K. Smart, Erin Smith, STA Contracting, Bridget Swayne, Judy Szychowski, the Taglieri's, B. Jean Taylor-Mitchell, Sherry Thurston, Darlene Tighe, Meg Unfiltered, Vicki Vitale-Farrow, Amy Voorhees, Gail Warwick, Michaelé Rose Watson, Alan Welch, Deborah Wheeler, Martha Williams and many more.
For more information about the book, please contact Lisa Bisbee-Lentz at the Greater Good Gallery, 228 Craven St., 252-649-1712.
By Lisa Bisbee-Lentz, Art Director, New Bern Now