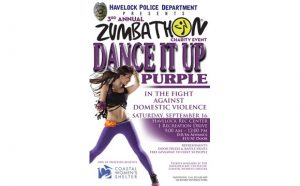 Our 3rd Annual Zumbathon in partnership with the Havelock Police Department is right around the corner!
You have got to check out the amazing raffle items!​
On Saturday, September 16, join us at the Havelock Recreation Center for your chance to support a fantastic cause and your chance to win these amazing prizes!
All proceeds​ help benefit Coastal Women's Shelter and individuals living a life free from domestic violence.
​T​ickets are sold at the door and the Zumbathon begins at 9am.
So wear your favorite color purple and we will see you there!
You can attend as a single or create a team. There is a 3 person minimum and a 10 person max for zumba teams. Winners will receive some outstanding top secret prizes!
For more information, call 252-638-4509 or visit CoastalWomensShelter.org.
Submitted by: Candice Parker, Fund Development Coordinator, Coastal Women's Shelter