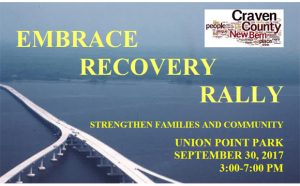 The Community Coalition for Craven County Children (C5) will host the 2nd Annual Embrace Recovery Rally on September 30, 2017 from 3 – 7pm at Union Point Park, New Bern in observance of National Recovery Month.
The event is free to the community with the goal of sending the message that there is hope for recovery from addiction.
The rally will include Live Music, Free Food, Kids Activities and
Inspiring Family Stories of Recovery by Nickey Canna; Laura and Dan Coleman; and Donald McDonald, Recovery Communities of NC.
Bring a chair or blanket.
This year we will have over 25 vendors that support recovery in some way; including prevention, treatment, wellness and support services.
Community Sponsors: Carolina East Health Systems, Carolina East Foundation, Coastal Children's Clinic, Community Coalition for Craven County Children, Dominion Diagnostics, Faith Connections, Toyota of New Bern, and Trillium Health Resources.
Submitted by: Amber P. Tabarrini, PHES, Craven County Health Department, 2818 Neuse Blvd.