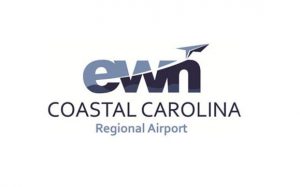 The Transportation Security Administration (TSA) has installed the latest security checkpoint screening technology at Coastal Carolina Regional Airport (EWN).
Starting today, a body scanner, also referred to as Advanced Imaging Technology (AIT), is being used to screen passengers departing EWN for metallic and non-metallic items including weapons, explosives and other objects that can be concealed in layers of clothing. The body scanner at EWN is a second-generation AIT with a smaller footprint than earlier versions of the same type of machine that are in use at other U.S. airports.
"The installation of a body scanner in the TSA security checkpoint will increase the efficiency and will allow TSA to detect current and evolving security threats," said Andy Shorter, Airport Director of EWN.  "The equipment will also improve the passenger screening experience, especially for those with medical implants, and we certainly appreciate TSA's efforts to bring this technology
to EWN."
Because the body scanner is not a metal detector, passengers who have had joint replacement surgeries can be adequately screened by the AIT without the need for enhanced screening performed by the TSA officers. In addition, the AIT machine does not use X-ray technology and it does not generate X-ray specific images of any traveler and it will not affect pacemaker implants.
The AIT unit is equipped with millimeter wave technology, which uses harmless electromagnetic waves to perform a single scan of the passenger. The technology meets all known national and international health and safety standards; the energy emitted by millimeter wave technology is 1,000 times less than the international limits and guidelines.
Every AIT unit operated by TSA is equipped with automated target recognition software, which is designed to enhance passenger privacy by creating a generic, computer-generated outline that is identical for all travelers. If the body scanner detects a concealed item on the traveler or any anomaly during the scan, a yellow box appears on the generic outline. This box identifies where on the passenger the TSA officer needs to conduct any follow-up screening.
TSA completed installation of the AIT earlier this week.  It is being used as the primary method of passenger screening at EWN.
Below are some tips to help travelers prepare for screening through the body scanner:
– Remove all items – metallic and non-metallic – from pockets. Common items carried by passengers that should be removed include boarding passes, money (e.g., bills and coins), tissues, eye glasses, cell phones and keys.
– TSA recommends securing these items in carry-on luggage prior to entering the body scanner.
– When being screened by the body scanner, place both hands in the air, over the head.  Stand as still as possible during the scan, which takes two to three seconds.
Submitted by: Leigh Ann Cook, Business Manager, Coastal Carolina Regional Airport EWN