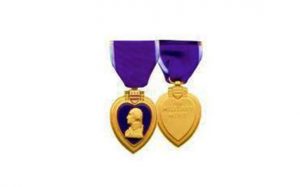 August 5th, 2017
Do you know an individual in the local area who has received a Purple Heart for Military service to America?
There will be an inaugural Purple Heart Dinner at the New Bern Riverfront Convention Center to honor Purple Heart recipients on August 5th at 5pm.
The evening will feature a Private Reception for honorees, Ceremonial Military Walk of Honor and Formal Banquet. Gold Star Mothers are also invited to attend.
This special night will be made possible by the generosity of gracious sponsors and volunteers. Purple Heart recipients will receive two complimentary tickets. In addition, Gold Star Mothers will receive one complimentary ticket.
To show our gratitude, this evening of appreciation is hosted by the Coastal Carolina Purple Heart Dinner Committee.
To refer Purple Heart recipients and Gold Star Mothers, or if you would like to Sponsor, please contact Co-Chairs: Darleen Jones at 349-9562 or Iggi Husar at 676-0088 or send an email.
For details, visit Facebook.com/CCPHD17/.
Submitted by: Darlene Jones, Coastal Carolina Purple Heart Dinner Committee