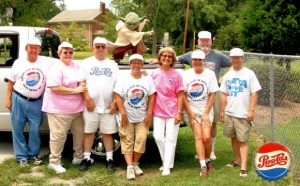 Who around here just loves their Pepsi-Cola?  These folks do too and a lot more…
Well, they love Pepsi-Cola so much, they drink Pepsi and only Pepsi, they sit around and talk about Pepsi, they learn the history of Pepsi and they collect Pepsi memorabilia.  Yes, the tasty beverage, Pepsi-Cola, invented right here in New Bern, is their passion.  They are the East Coast Pepsi Connection (ECPC), and they meet annually to share that passion for everything Pepsi.
Ten years ago, the founders of ECPC met for the first time here in New Bern.  They enjoyed sharing Pepsi stories, buying, selling and trading Pepsi Collectibles and drinking copious amounts of their favorite beverage.  At a picnic at Fort Totten Park, they invited local folks to bring their Pepsi Memorabilia to learn about and/or sell.  It was such a great time they vowed to have the event every year.
This year, after ten years of visits to several other states including Virginia, Tennessee and Pennsylvania, ECPC is coming back to New Bern for their 10th Anniversary Celebration from July 13th through July 15th.
It was easy to choose New Bern. Not only is it a great city in its own right, it is the birthplace of Pepsi-Cola, the center of ECPC's passion. Everyone in this town is just so friendly, from The Convention and Visitors Bureau to the many hotels contacted; from Baker's Kitchen, which is catering their 10th Anniversary dinner, to the Birthplace of Pepsi Store.  Folks were happy to help a group of over 70 Pepsi Lovers plan a great celebration.
This year's ECPC event will begin with a Welcome dinner on Thursday evening.  There will be a scavenger hunt, visits to the Birthplace of Pepsi Store and local antique stores to search for Pepsi goodies to add to their collections.  Friday night will be the 10th Anniversary dinner downtown, and wrapping up the event, their annual picnic, this time at Creekside Park, will be held on Saturday.
ECPC invites you to drop by with your favorite piece of Pepsi memorabilia to learn more about it.  Maybe you have Pepsi antiques or collectibles you would like to sell.  Maybe you would like to know more about Pepsi collecting, information about the national Pepsi-Cola Collectors Club will be available.  They look forward to meeting Pepsi fans at the Congleton picnic shelter from 12:30 to 2:00PM on Saturday, July 15, 2017.  For more information about the East Coast Pepsi Connection and this event contact them at ECPC@gmx.com.
So, there you go, some folks who might actually love Pepsi-Cola more than you do… if that is even possible… are coming to town!  Check them out.
Submitted by: June Frost, East Coast Pepsi Connection