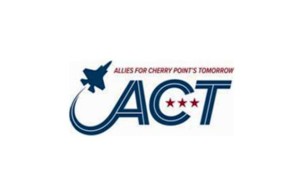 Raleigh, NC: The North Carolina General Assembly recently adjourned its regular legislative session for 2017 and among its accomplishments were several items of particular benefit to Marine Corps Air Station (MCAS) Cherry Point and Fleet Readiness Center (FRC) East.  Allies for Cherry Point's Tomorrow (ACT) made these issues key priorities in its state legislative advocacy.  ACT commends the Senate, House and Governor for supporting these important initiatives.  The MCAS Cherry Point region's delegation of Senators Harry Brown and Norman Sanderson, as well as Representatives John Bell, George Graham, Pat McElraft and Michael Speciale were especially instrumental in working to support ACT's priorities.
Of special importance is a state appropriation in the amount of $3 million to build additional facilities to supplement the Lift Fan Maintenance and Testing Facility planned for FRC East.  These facilities will improve the industrial base required for the Lift Fan testing component for the F-35B Joint Strike Fighter aircraft.  This benefits both FRC East and the region because it brings more high-wage jobs and anchors FRC East as a primary repair facility for the F-35.  The Lift Fan testing facility will be built with a $15.671 million federal military construction (MilCon) appropriation.  "The state appropriation in support of this critical FRC East program is important for two reasons," says ACT President Will Lewis.  "This funding is the first time the state of North Carolina has ever made an investment in a federal military installation.  It is both a real and symbolic show of support for our North Carolina military bases in anticipation of a Base Realignment and Closure (BRAC) process."  Lewis adds that the investment also expands the capability of FRC East to support the F-35B variant of the Joint Strike Fighter.  "MCAS Cherry Point will eventually be home to more F-35B's than any air station in the world and FRC East is the designated depot for F-35B maintenance and repair," Lewis says.
The legislature included two other state appropriations of direct benefit to Cherry Point in the final state budget.  $1.2 million is allocated for purchase of land in proximity to Bogue Field in Carteret County.  This will help mitigate encroachment on Outlying Field Bogue where Cherry Point aviators train.  Also, $1 million has been appropriated to help clean-up a brownfield site in Havelock adjacent to the air station and near a military family neighborhood.  These funds will assist Havelock in cleaning up the site and removing a potential danger to neighbors.
ACT Government Affairs Director Jamie Norment also points to a policy provision enacted late in the legislative session that will help North Carolina better understand the impact of wind turbines on military training.  "The Assembly has imposed an 18-month moratorium on any new wind farms in North Carolina.  During this time the state can determine definitively where wind farms can be safely sited and those places where they should be prohibited because they pose a hazard to military flight training," says Norment.  "ACT's official position is that we do not oppose wind energy," adds Norment, "but that we support clear and appropriate siting requirements that fully take into account the needs and concerns of the Air Force, Navy and Marine Corps that use eastern North Carolina airspace for critical training."
ACT maintains a constant presence in Raleigh to ensure that state policy supports Cherry Point, Marine Corps aviation and FRC East.  The North Carolina effort is part of a broader government affairs presence that ACT maintains in Washington, DC with the Congress and the Department of Defense.  "ACT believes that a strong advocacy effort with our federal and state policy makers is absolutely crucial to sustaining and growing Cherry Point," says ACT President Will Lewis.  "We are proud of our accomplishments this legislative session and look forward to continuing to work with our General Assembly members and state agencies, including the Department of Military and Veterans Affairs and the North Carolina Military Affairs Commission."
Submitted by: Shannon LuQuire, Trade Ideas