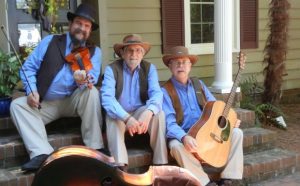 A brand-new music group is performing in New Bern August 5 – don't miss the very first concert by Rock Bottom Deal!
Rock Bottom Deal is a trio performing Bluegrass, Gospel, and other acoustic music.  Combining vocal harmony with the sounds of guitar, fiddle, bass, and other instruments, Rock Bottom Deal will set your toes to tapping, your fingers to snapping, and your voice singing along.
Dave Knight sings and plays guitar.  Dave has a special fondness for songs with funny lyrics and interesting chord progressions:  he occasionally swaps his guitar for a mandolin.
Hal Cameron plays upright bass, and sings tenor or baritone vocal harmonies.  Hal occasionally sets down his bull fiddle to play 5-string banjo.
Simon Spalding plays fiddle, and sings baritone or tenor.  A Renaissance Man at heart, Simon sometimes doubles on 5-string banjo or mandolin.
All three members of Rock Bottom Deal now reside in New Bern, North Carolina. Their musical influences range from Doc Watson and Merle Travis to Flatt & Scruggs and Bob Wills.  An occasional waltz or hoedown adds a little spice to the mix!
The concert is at Trent River Coffee Company, 208 Craven Street in New Bern.  The doors open at 6:00, and the music starts at 7:00 pm.  Tickets are $10, available at the door.  Concert-goers under 18 admitted free.  Call 252-514-2030 for more information.
Rock Bottom Deal is available for concerts, festivals, parties, church functions, and pig-pickings.  For information on the band, contact Simon Spalding at 252-636-1256 or via e-mail.
Submitted by: Simon Spalding