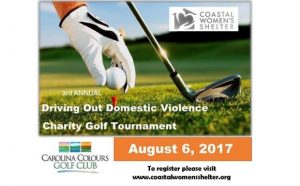 Coastal Women's Shelter (CWS) will be hosting its 3rd Annual Driving Out Domestic Violence Golf Tournament on Aug 6, 2017, at Carolina Colours Golf Club in New Bern, NC.
The tournament drew in 72 golfers in its last year. Funds generated by the tournament will be used to help our clients establish homes free from domestic violence. We have the capacity to have 116 golfers in attendance and 20 staff and volunteers at this event.
We will have a raffle, giveaways, and lunch will be served. It is a 4 person scramble, $80 for an individual, $320 for a team. There is an available military discount. The price includes green fees, cart fees, and lunch. It is a 9 AM shotgun start. You can register online at Active.com.
This event is proudly sponsored by Carolina East Health System, Bosch, Fuel Market, New Bern Family Eye Care, and Trent Cadillac of New Bern.
Coastal Women's Shelter served over 550 clients during fiscal year 2015-16 in Craven, Jones, and Pamlico counties. One hundred women and 46 children lived in the safe house for an average stay of two months. We can house up to 19 individuals at any one time. CWS provides a comprehensive range of services to members of the community who are affected by domestic and family violence: a 24-hour crisis line, court advocacy, monthly support groups for women and children, transportation, tuition assistance, clothing, food, employment resources, housing assistance, and interagency information and referrals.
Charity events enable Coastal Women's Shelter to continue providing valuable services to victims and survivors of domestic violence in Craven, Jones and Pamlico Counties. According to the Centers for Disease Control, violence in the United States is considered a public health crisis.  Events like the Driving Out Domestic Violence Golf Tournament increase our community's awareness of the seriousness of domestic violence and help to reduce the stigma associated with abuse and victimization while promoting community camaraderie and public wellness.
For more information, donations, or sponsors please contact the Coastal Women's Shelter at 252-638-4509.
Submitted by: Candice Parker, Fund Development Coordinator, Coastal Women's Shelter