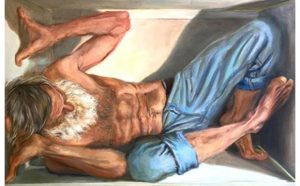 Art Walk: Friday, July 14, 2017
5:00pm – 8:00pm
Always curious about the human figure, in this series of work "Open Box", Meyer wanted to experiment with how the quality of light interacts with the human figure; texture of skin, tightness of muscles, angles of arms, legs, shoulders and head in confined and different contorted positions.
The box is a frame, the traditional way of thinking of a unique situation. By thinking "Out of the Box" Meyer focuses on the challenge of light, looking at it from various angles with novel and creative thinking.
Trying different angles and numerous numbers as well as types of lights, she had the 6' tall model pose inside a wooden 2'x5' box that minimizes down to a 2'x2' space. Horizontal angles of light just peeping into the box accentuated the figure the best. The contrast and value of the shadows against the texture of the skin helped pop the figure. After an initial drawing, she followed the process with a preliminary underpainting based on many reference photos. The final paintings were completed in short live model poses. She rendered the figure through a traditional method in oils and in dry media (graphite, colored pencils, charcoal) accentuated with washes.
About the Artist: GeeVee Meyer moved to New Bern with her family in 2010. She grew up in the Philippines and moved to the United States in her early 20s. Though self-taught for many years, she has also attended workshops led by internationally renowned artists in France, Italy, Japan, and throughout the United States.
For more information, visit Fine Art at Baxters Fine Art Gallery at 323 Pollock St. in Downtown New Bern or call 252-634-9002.
Submitted by: Donna Slade, Fine Art at Baxters