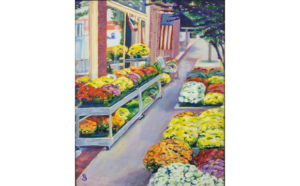 Exhibit featuring the chrysanthemum returns for a second year
Bank of the Arts, 317 Middle St, New Bern
July 1 to September 15
Craven Arts Council and Gallery is seeking submissions for the Mum's the Word exhibition for 2017. This exhibit, coordinated with the annual downtown New Bern Mumfest in October, highlights local and regional talent and creativity around the iconic flower. Artists of all levels are encouraged to submit their best chrysanthemum artwork via email by September 15th for consideration.
This year's exhibition will distributed across downtown New Bern businesses, with locations featuring the work noted on the October Artwalk card. The work will be juried by a subgroup of the Mumfest Planning Committee, and one winner's art will be used for the 2018 Mumfest Banners.
Last year's winner was Belinda Scheber's Mums of Craven St. Artists are asked to not include any text or numbering. Entries cannot exceed 36'' in any direction, and must be wired and ready for hanging. Full guidelines for the exhibition can be found online at CravenArts.org.
For more information please contact Jonathan Burger, Marketing and Gallery Director, Craven Arts Council & Gallery, Inc. at the Bank of the Arts, 317 Middle St. or call 252-638-2577.
Submitted by: Jonathan Burger