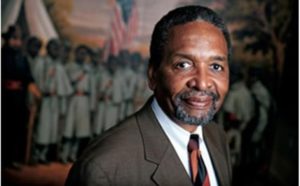 Tryon Palace's Lunch and Learn lecture on Friday, May 19, will feature historian Dr. Frank Smith, Ph.D., discussing the legacy of the United States Colored Troops. The May Lunch and Learn will take place at noon inside the North Carolina History Center in downtown New Bern.
Smith laid the groundwork for establishing a national memorial for African American troops who served in the Civil War in Washington, D.C., and oversaw the dedication of the African American Civil War Memorial in July 1998.
One of the first major recruiting efforts of free African Americans took place in New Bern, where Brigadier Edward A. Wild focused on establishing four regiments of United States Colored Troops. Smith will discuss the military service records of the USCT that volunteered to serve with the Union during the Civil War.
Tickets for each event are $6 per person and free for Tryon Palace Foundation members. Each Lunch and Learn will begin at noon and guests will meet in Mattocks Hall inside the North Carolina History Center. No food or beverage is provided.
For more information call 252-639-3500.
Upcoming events at Tryon Palace include:
May 21: African American Heritage Tour
May 22: UNCW Early Music Consort Performance
May 23: Behind the Scenes: Costume Shop
May 28: Book Signing with Barry Milteer
Submitted by: Craig Ramey, Director of Public Affairs, TryonPalace.org