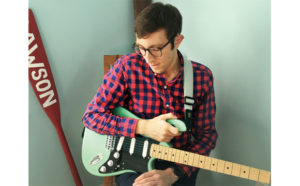 Live music at the Isaac Taylor Garden with performer John Parker, Jr. during ARTcrawl on Fri., May 12, 2017 from 5 – 8pm at 228 Craven Street, New Bern.
John Parker, Jr. is the pseudonym of Matthew Cassillo; a bedroom pop songwriter from Long Island, New York, currently living in New Bern, North Carolina.
John Parker, Jr. is currently recording his second full-length LP under the moniker, tentatively titled "No Stranger", with his newly formed backing band, The Postmortals. The moniker and project originated in 2014 with the release of "The Joys of Living In The Modern World EP," and was created as a vessel for recording simpler, more straightforward songs than his work at the time as co-songwriter of the NYC area post – punk band Family Ghosts. With each release to follow ("Pseudocide" in 2015 and the "Adults Don't Need Company EP" in 2016), the breadth and scope of the project has expanded; touching on subject matter both personal and social, with sonic influences ranging from New Order to Bright Eyes.
Creative folk will participate with demonstrations and wares featuring Robin Ralston Frelier from New Bern Arts & Wellness.
See recent pop culture paintings by Jerry Scott and jewelry demonstration with Ellisa Schulman. Andrea Clements Thompson will be promoting next week's Drum Circle and Union Point.
Enjoy more artistic demonstrations inside the Greater Good Gallery with Jon Derby, Lisa Bisbee Lentz and Carol Jones. Mockup pages of "A Brief History of Artists in ENC" will be on display. Artists are welcome to setup, please send an email or call 252-649-1712.
By Lisa Bisbee-Lentz, Artist Representative, Greater Good Gallery