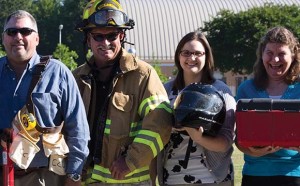 Join Craven Community College for the Public Safety Awareness & Recruitment Day on May 20, from 9:00am – 1:00pm at the New Bern Campus, 800 College Court.
The purpose is to educate the public on public safety careers, available jobs and training. Public safety and emergency personnel, equipment and vehicles will be on display from the following organizations: Craven CC Basic Law Enforcement Training and Workforce Development; Craven County Emergency Management; Craven County Sheriff's Office; Marine Corps Air Station Cherry Point Civilian Police; New Bern Fire Department; New Bern Police Department; North Carolina Highway Patrol; North Carolina Department of Public Safety; Pamlico Correctional Institution, Rhems Fire Department; Township 9 Fire Department; and West New Bern Fire Department.
Attendees, including children, are welcome to participate in activities, observe K-9 demonstration, and explore police, fire and EMS vehicles. The Caution Food Truck Ahead will sell food and drinks.
This is a free event for the General public and persons interested in training and working in a public safety education and careers.
Submitted by: Deborah Kania, Director of Communications, Craven Community College