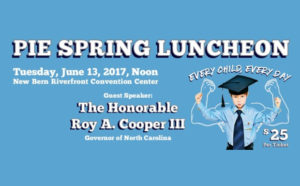 More than 700 educators, business leaders, and elected officials will fill the New Bern Riverfront Convention and Visitors Center on Tuesday, June 13, 2017, for the Partners In Education Spring Luncheon. This annual event raises money for Craven County schools for the PIE Grant program. PIE awarded more than $120,000 through a variety of grants and programs during the 2016-17 school year.
Don Brinkley, President of Craven County Partners In Education's Board of Directors, announced that the luncheon will feature North Carolina Governor Roy Cooper as keynote speaker. The theme is Every Child, Every Day.
Doors open at 11:30 am for seating with the event beginning at Noon. Tickets are $25 per person. The Chelsea Restaurant is catering the event serving their famous shrimp and grits, and H. J. MacDonald Middle and Grover C. Field Middle School bands will provide the entertainment. Si Seymour, Past Executive Director of the Craven Community College Foundation and the Radio Color Analyst for the East Carolina University Basketball Team, will emcee the event. This event is open to the public.
Mr. Brinkley explains, "It is an excellent opportunity for our community to show their support of Craven County Schools and our public school educators and administrators. All proceeds from the luncheon will be used to support the PIE Grant program. This program rewards creative and innovative projects in the Craven County Schools classrooms through grants awarded to teachers to fund materials for technology, science, music, and art projects, along with supplies and books for our students."
The paramount benefit of attendance and sponsorship is that you are contributing to an increasingly skilled 21st century workforce and a community of schools recognized for its excellence. The goal of Craven County Schools is to be the highest performing system of public education in North Carolina.
Mr. Brinkley also announced the sponsors of the luncheon. At the Major Sponsorship Level: AlphaGraphics; Alpha Media (Bob 93.3 and WRNS 95.1); BB&T; The Harold H. Bate Foundation; Bojangles'; B/S/H/ Home Appliances; Brinson Insurance Agency; CarolinaEast Health System; Century 21 Zaytoun-Raines; Chevrolet of New Bern; Coastal Carolina Health Care; Craven Community College; Craven County Schools; High Country Travel & Tours; Inner Banks (WNBU 94.1 and Thunder Country 96.3); Learning-Focused; The Masonboro Group; Mitchell Hardware; Moen; Morgan's Tavern & Grill; Piedmont Natural Gas; Sumrell Sugg, Attorneys at Law; Sun Journal; Wells Fargo; Weyerhaeuser Co.; and Williams, Scarborough, Smith, Gray, LLP; Principal Supporters: A Dog's Dream; Duke Energy; and Rice's Rentaland. Educator Supporters: Fisher Fuel Markets; Howard, Stallings, From, Hutson, Atkins, Angell & Davis, PA; the little bank; and Sound Bank
To purchase a ticket, or to learn how your organization can be a PIE sponsor, contact Darlene Brown, Executive Director, Craven County Partners In Education, at 252-514-6321or visit the PIE website at CravenPartners.com.
Partners In Education is a 501(c)3 nonprofit Local Education Foundation that provides grant funding and special programs to classrooms and schools within the Craven County Schools system.
Since 1989, PIE has been changing the lives of students and families in our community by providing our educators with financial resources that enhance and reward innovative approaches to educational excellence.
Submitted by: Darlene Brown, Partners in Education