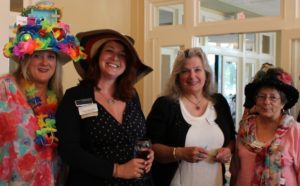 Coastal Women's Forum will hold its next Lunch Meeting from noon to 1:00 p.m. on Wednesday, May 17 at the New Bern Golf and Country Club. Registration will begin at 11:30 a.m. The cost is $15 for members and $20 for visitors.
This month, Paradigm Associates business coach, Eileen Nonemaker, will speak on the touchy topic of saying 'no'. Traditionally, women have been raised to be nurturing and helpful.  This often causes them to say 'yes' when they truly want to, or even should say 'no'. Eileen will share her tips on saying 'no' nicely, professionally and without guilt.
Pre-registration is required by noon on Monday, May 15. Check or cash payment will be accepted at the door.
For more information, or to register, contact Lunch Coordinator, Elizabeth Wood at 252-675-2544.
To learn more about what Coastal Women's Forum has to offer, or to register online, visit CoastalWomensForum.com.
By Contributing Author: Penny Zibula, Six Legs Will Travel