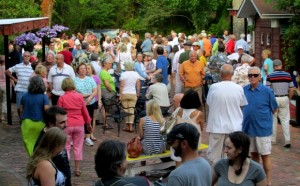 14th: Explorations: The International Film Series "The Rocket", 2:30pm and 7:30pm in the Orringer Auditorium at Craven Community College. Call 252-633-2618.
14th: ARTcrawl at Isaac Taylor Garden and Greater Good Gallery, 5:00pm – 8:00pm at 228 Craven St. Call 252-649-1712.
14th: Bernaroo presents: The Sunday Special with Joe Brown Band, 9:00pm – 12:00am at The City Laundry. Call 252-876-7007.
15th: Craven Cooperative Extension Master Gardeners for Free April Workshop, 9:00am – 11:30am at 300 Industrial Dr., New Bern. 252-633-1477.
15th: Easter Egg Hunt, 10:00am – 3:00pm at Tryon Palace South Lawn. Call 252-639-3500.
Listen to our latest Podcast to hear more about the latest happenings in New Bern and Beyond:

If you don't have time to listen to the entire episode, click here to see the show notes and listen to parts of the episode.
What are you doing this weekend?
Tell us what you think sending us an email. Visit New Bern Now's Facebook page or sign up for the latest updates by submitting your email address in the right margin on New Bern Now's website.
Wendy Card