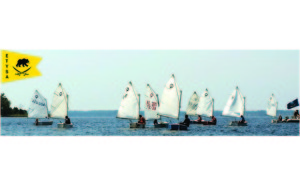 Blackbeard Sailing Club, New Bern
$150 per session with $50 membership
Register online at ETYSA.org
Summer Camp I: June 12 – 16
Summer Camp II: June 26 – June 30
Summer Camp III: July 10 – 14
Summer Camp IV: July 24 – 28
Summer Camp V: August 7 – 11
Our Junior Sailing Program offers week long summer sessions providing instruction in basic dinghy sailing, exposing juniors to different types of sailboats, including a mixture of fun and on and off-the-water activities. The main goal is to promote interest in sailing, to provide knowledge and experience in safe boating, and to have fun. Space is limited!
We will be sailing Opti, Topaz and 420 boats. Racing team available for those interested and motivated.
Our students will be expected to:
– Pass a swim test; this will involve treading water without a life jacket.
– Follow the directions of the instructor, the rules of the program & of BSC.
– Wear appropriate clothing (USCG-approved vest-type life jacket and water shoes)
Be at least 8 years old.
Sessions are 9am – 3pm Mon – Thurs, 9am – 1pm on Friday
Bring your own lunch.
Adult classes available. Contact ETYSA for details.
Submitted by: Mary Ann and Jeremy LeRay