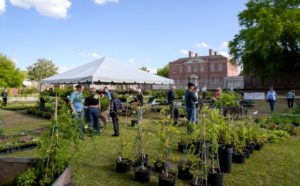 Tryon Palace's annual Spring Garden Lovers Weekend will feature an assortment of multicolored tulips and diverse spring blooms will be on display April 7 – 9 in historic downtown New Bern.
Throughout Garden Lovers Weekend the 16 acres of Tryon Palace gardens will be open to the public free of charge. Tours of the Governor's Palace, historic homes, and the Pepsi Family Center and Regional History Museum in the North Carolina History Center will require the purchase of a ticket, however.
Visitors can take home a reminder of the Tryon Palace gardens from the Spring Heritage Plant Sale, open from 9 a.m. to 5 p.m., April 7 – 8, on the Daves House lawn. Visitors can shop for a wide variety of perennials, herbs, annuals, trees and shrubs. Many items for sale are grown on-site in the Tryon Palace greenhouse and brought in from local nurseries. Supply is limited. The palace's Craft and Garden Shop will also be open on Friday and Saturday, from 10 a.m. to 4 p.m.
The 9th annual East Carolina Pottery Festival will also be held from 9 a.m. to 5 p.m., Saturday, April 8, inside the North Carolina History Center. More than 50 of eastern North Carolina's finest potters will exhibit their pottery for sale and provide various throwing and building demonstrations.
Each year Garden Lovers Weekend is held in conjunction with the Spring Historic Homes and Gardens Tour, sponsored by the New Bern Historical Society and the New Bern Preservation Foundation. A 10-percent discount on a Tryon Palace One Day Pass will be applied with a Spring Historic Homes and Gardens Tour ticket.
For more information call 252-639-3500 or visit TryonPalace.org.
Upcoming events at Tryon Palace include:
April 15: Tryon Palace Easter Egg Hunt
April 18: Behind the Scenes: Gardens
April 21: Lunch and Learn: George Washington 
April 22: Backyard Jam presented by Swiss Bear
Submitted by: Craig Ramey, Director of Public Affairs, Tryon Palace